Vision : Advancing the Kingdom of God in Nairobi City and beyond.
Mission : To make Christ known through holistic ministry.
The creation of All Saints' Cathedral Diocese was a matter of protracted debate between the former Nairobi Diocese and the Provincial Synod. The Provincial Synod of July 2000 passed the following resolution:-That Nairobi Diocese be divided to create two Dioceses i.e. Nairobi Diocese and an Archdiocese, which will be under the Archbishop in consultation with the Diocese of Nairobi in accordance ……
The leadership organs of the All Saints' Cathedral Diocese seek to provide the following services.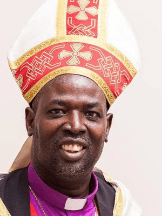 The Most Rev. Dr. Jackson Ole Sapit
Archbishop of Kenya, bishop of all saints' cathedral diocese & Bishop in-ordinary of the Kenya Defense Forces.
Diocesan Divine Conference on Friday 26th & Saturday 27th August, 2022. At All Saints' Church Nairobi.
20th Diocesan Anniversary Celebrations and Thanksgiving on Sunday 4th December, 2022.
Position : Provost All Saints' Cathedral
Nairobi All Saints' Cathedral Church Nairobi, which is the Cathedral of All Saints' Cathedral Diocese, and also the Provincial Cathedral of the Anglican Church of Kenya, seeks to recruit a person to fill the position of Provost. The Provost is the Parish Priest and overall in charge of the Cathedral which has a large congregation and multiple development and ministry projects. For details and how to apply click on download details
While Scripture, Revelation and Tradition are the foundation of our church, it is our desire that we become a people who genuinely live the following values in every area of our lives and ministry
We will demonstrate love for God and one another marked by humility, grace, and forgiveness.
Prayer will be our connection to the Almighty God, a step into understanding God's purpose in our lives, spiritual growth and transformation.
We will do what is right and just for the people we serve, and in our profession, ethics, fairness and honesty are the cornerstones of our ministry.
We will use our gifts and resources to serve the needs of others in honour of God, sacrificially serve our neighbours whether they believe as we do or not.
We are committed to excellence in the services we provide and in the results we attain for the ministry.
We will worship God with all that we are, both privately and corporately. God's glory will be the ultimate goal of everything that we do.
We are committed to the unity in the body of Christ recognizing our economic, social, cultural and political diversity and appreciating the different modes of worship.
We should uphold the supremacy of scripture and our in the knowledge of God would ignite an ever increasing affection for God and for one another.
The All Saints' Cathedral Diocese has a focus on the following strategic groups
Worshippers
Clergy and other licensed lay servants in the Diocese
Management staff
Needy and unreached communities especially in informal settlements
Learning institutions, hospitals and prisons
Physically and mentally challenged
Special focus groups
ACK St Nicholas Community Development Centre
Established in 1986 through the initiative of the Mothers Union, Nairobi Diocese, St
Nicholas Community Development Centre (CDC) serves to rescue, develop, and reintegrate
vulnerable children. Currently taking care of 80 children, CDC intends to grow
its capacity to a minimum of 200 children by 2020.
To nurture and educate the less privileged children.
A Christian center for transformation and integration of children to realize their full potential.
Overall Goal – The overarching goal for this planning period
Over 200 underprivileged children learning in an integrated environment where they feel valued and developed for opportunities in the marketplace.
All Saints' Cathedral Diocese
Diocesan Office Headquarter, Karen
P.O. Box 10313-00100
Nairobi, Kenya.
(+254) 712 287 919
(+254) 737 913 394
info@allsaintscathedraldiocese.org
allsaintscathedraldiocese@gmail.com